Apple Cider Vinegar Herbal Bitters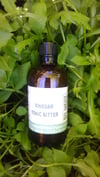 (100ml Glass Bottle)
Our vinegar tonic bitters is a wonderful blend of bitter and aromatic herbs that helps to cleanse and strengthen the body by supporting the liver and improving digestive metabolism.
It contains herbs such as dandelion, burdock, artichoke wormwood and yarrow, which has been used traditionally to support liver function and detoxify the body.
The combination of the bitter, aromatic herb and sour taste of apple cider vinegar give a unique and interesting taste that make it refreshing to drink in a glass of water.
Apart from detoxifying the body our tonic bitters helps to:
*Support digestion
*Speed up metabolism
*Tonify various organs
*Promote weight loss
DISCLAIMER:-
THE INFORMATION CONTAINED IS NOT INTENDED NOR IMPLIED TO BE A SUBSTITUTE FOR PROFESSIONAL MEDICAL ADVICE, IT IS PROVIDED FOR EDUCATIONAL PURPOSES ONLY.
ALWAYS SEEK THE ADVICE OF YOUR PHYSICIAN OR OTHER QUALIFIED HEALTH CARE PROVIDER BEFORE STARTING NEW TREATMENT OR DISCOUNTINUING AN EXISTING TREATMENT.